increasing diversity in the film and television industry
Removing obstacles and creating access
Canada's vibrant film and television industry is growing.
In 2020, it generated over $9 billion in production volume, contributed $12.2 billion to the GDP and created approximately 244,500 jobs.
Barriers exist for marginalized communities to have access to training opportunities. The Foundation is conducting an unprecedented initiatives to remove barriers to employment in the film and television industry.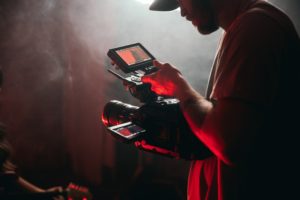 Outreach
building a bridge for new talent
The bridge will be created by:
Establishing relationships with community partners on the ground and working with underrepresented communities.
Reaching out to those community partners in a respectful way with practical opportunities to access film and television
Supporting robust online content so people can supplement their learning in whatever part of the country they live
Supporting ongoing relationships with community partners, industry stakeholders and government to make our programs sustainable
---
"Making sure young talent has access to the tools of advancing technology and virtual production plays a vital role in the pursuit of equity."
Access to new technology
bringing equity to life
Technology has emerged as a powerful tool in shaping the modern workplace, driving significant advancements in promoting equity and inclusivity. In an era where diversity and fairness are ever more important, technology plays a crucial role in dismantling barriers and creating opportunities to empower individuals with their unique needs. From enabling inclusive hiring practices to empowering the underrepresented with proper tools, technology has the power to transform the workplace by bridging gaps and levelling the playing field.
WORLD ECONOMIC FORUM, 2023
Mentorship and Internship
OPPORTUNITY FOR TALENT
INTERNSHIP
We can foster a significant growth of diversity in the industry by reaching out to underrepresented young people across the country and offering them the opportunities to be part of internship and mentorship programs the Foundation supports. Our goal is to facilitate learning opportunities that provide practical job skills.
MENTORSHIP
The Mentorship Program we support is an ongoing program that aims to make the cinematography profession more inclusive and foster diversity behind the camera. Priority will be given to individuals who come from traditionally underrepresented groups, who will be paired with established cinematographers.